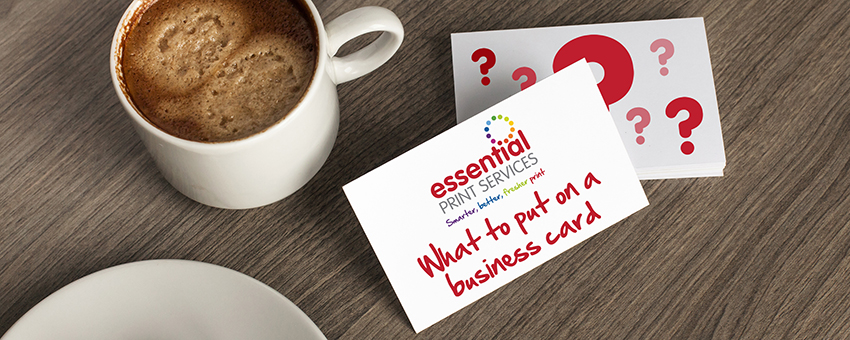 "What do I need to put on my business cards?" is one of the most asked questions at Essential Print Services.
After 18 years of creating artwork files for print, I must have supplied thousands of business cards proofs.
Using this experience, here are my top ten tips on what to include on a business card.
1) Your Name
If you're lucky enough to have credentials to display after your name, ensure they are not the same size as your name – this can look overbearing and confusing.
Depending on the type of industry you're in, you may want to consider displaying your nickname too. This will show your company's personality and could create a valuable talking point at networking events.
2) Title
OK, so you may not be brave enough to use a nickname, so have a funky title instead. Here at Essential Print Services our business cards show:
Again, this depends on your audience and customers. I know an accountancy firm that call themselves 'Bean Counters' which I think is really cool. But would a really serious client with no sense of humour appreciate that?
3) Logo
Think of your business card as the door to your company so display your logo somewhere prominent. People's focus usually starts in the top left of a screen or document so that's where your logo could be.
If your logo doesn't explain what your company does, then ensure you make it clear somewhere on your business card – don't leave your reader guessing. Spell it out for people.
4) Contact details
Firstly, ALWAYS include your website address somewhere, because if all else fails, people can visit your site for more information.
If you've given someone your business card, they'll expect to get in contact with you directly and quickly using the information on your card. If you give them a landline, which takes them on a wild goose chase around your phone system, people may get frustrated and give up; 'Press 1 for Sales, Press 2 for accounts etc. "Aarrghh I just want to speak with Bob! Give me Bob now!"
Decide how you'd like new contacts to get in touch. If you prefer people to call your mobile, rather than your main landline, then just put your mobile number. If people want your landline, they can always find it on your website (make sure they can). If you really want to put your landline somewhere, then make your mobile number bigger and bolder.
If there is space, include your email address. If your email is really long because of your name or domain name or both, then display it small. By ensuring your website is displayed somewhere, if people struggle to read your email, they can refer to your website address, which should have the same domain name. If they're not the same – why not?
Avoid using "joebloggs@hotmail.co.uk" with "www.joebloggsislovely.com". This looks unprofessional. Ask yourself (or the company that hosts your email) why don't I have, "joe@joebloggsislovely.com"?
More and more so, we are receiving business card files that have no physical address on them. This makes sense if people work from home and don't want people turning up to their home whilst they're making the tea in their Superwoman Pyjamas (sorry, that's just me). But if you're trying to create a perception that your company is more established, including a location at least would be useful.
So rather than: 2 Victoria Way, Pride Park, Derby DE24 8AN
You could try: Pride Park, Derby
Fax? What is a fax? Be honest, when did you last hear the fax machine ring? Of course, if you're a solicitor, you may need to include it but if you can, then leave this off.
Do you use Social Media for your business? If yes, then include the identities of social media platforms on your business cards. Use the ones you actually use or receive the most engagement from your audience. There's no point including platforms like 'Pinterest' or 'Google+' if you have no intention of using them.
Social media icons and identities can take up a lot of room. Your business cards are 'prime advertising space' – so use it wisely.
Here at Essential Print Services, we evaluated the return on investment from our social media activities and found that we had the least amount of engagement with our audience on Facebook. So when I was designing our new business cards and I had no space for a fifth social media identity, I knew which one I could afford to leave off.
I would advise you to include which account you want people to follow or 'like'. Don't leave it to chance. If you have a personal and business account, ensure people know to follow your business account. Do you really want a really important business prospect following your personal account and seeing what you did at the weekend?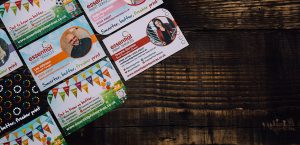 How to display your social media identities on your business card. 
Here are the three most popular ones:
For Facebook, use the icon and then @essentialprint
Avoid using the whole URL (i.e. www.facebook.com/essentialprint), this will take up too much space.
For Twitter, use the icon and @essentialprint
For LinkedIn, use the icon and 'Your Name' or 'YourName'. People will search for you anyway. This works if you've claimed your personal URL.
If you print the icons, don't manipulate them. At the end of the day, they are someone else's property. I know I wouldn't appreciate it if someone changed my logo without permission.
Ensure these identities ARE correct and the ones you've definitely registered – don't guess them. They could belong to someone else (heaven forbid).
Check that they all work before going to print. In fact, CHECK EVERYTHING BEFORE APPROVING YOUR PROOF.
5) Services & Products
Only if you have space, then include a handful of bullet points about how you can benefit customers. A short sentence should do the trick.
6) Font Size
I have seen text so small on a printed business card that I have struggled to read it. At the same token, I have received cards where the name of the person is HUGE but the details are teeny tiny. Ensure your font size depicts the hierarchy of its information but no so that it looks disproportionate.
Depending on the type of font you're using, try not to use fonts no smaller than 7pt.
If you'd like us to supply a FREE business card template for your business card, which helps show the font hierarchy, simply get in touch.
Here are a few more tips that you may wish to consider;
7) Buy what you need
Buying more cards than you actually need is a false economy. You're denying yourself the opportunity to refresh your cards and update information.
If you buy thousands, you run the risk of becoming bored and disenfranchised with the content, this may even discourage you from giving them out. A new finish or trend of cards may arrive and then you're left with hundreds or thousands of cards made redundant because you want to keep up with the times.
If you're a start-up company purchasing your very first set of business cards, you may want to keep volumes low because of price. I'd recommend buying 500 cards for your first set. You'll be amazed how many you'll get through. Supportive family and friends will want a few each and before you know it, you're placing a re-order.
Whenever you want to change the look or material of your business cards – always ask to see a sample of the card.
Once you've had your new cards printed, be sure to obtain honest feedback from people. You may think your new cards are the bee's knees but is your message getting across correctly?
8) Material
You've set out what your card will look like, you've worked out how many you'll need, now think about what type of card you'd like.
Our most popular is 400gsm weight with a matt laminated coating both sides. This makes the card durable and helps against them becoming dog-eared in handbags and pockets.
The price of Spot UV business cards has reduced dramatically in recent years and here at Essential Print Services, we can offer Spot UV on one side for just £25 +VAT more (for 500 cards). Spot UV is a shiny bit of film that can be applied to particular areas of graphics and images. UV works well when it is applied to the dark backgrounds. On light backgrounds, it is not very noticeable. Spot UV doesn't work very when its applied to thin, small text either.
Here at Essential Print Services HQ, we LOVE round corners. Probably a bit too much. We can offer to round off the corners of your business cards for as little as £15 extra +VAT (for 500 cards).  We can round corner all the corners, just one, two or three! Or have a mixture. For more information about round cornered business cards, read out popular blog post, "Give your full colour printing the edge".
If you'd like to see samples of any of the above materials, or would like a price list, simply call the Print Angels on 01332 418377 for a FREE sample pack.
9) There's always two sides to every story… or a business card
Choose double sided, every time. It will give you the space you need to make the maximum impact and get your message across. Use surplus space to portray your corporate identity.
10) You only get one chance to make a first impression…
…so make it count. Choose quality business cards from a quality printer and Essential Print Services can certainly help you with this. We will help you decide what will be best for your image and budget.
Think about how you will hand out your cards. Will you hand it over considerately and take time over the exchange? Or just throw them out like confetti? Every aspect of this first encounter is crucial and will say a lot about you, and your business.
Invest in a decent business card holder. Giving out business cards that have been in your pocket for a while, that may be damaged and have bits of suspicious fluff on it, just isn't good enough.
Look after your cards so that each one looks like it's hot off the press. You must be proud to hand out any printed literature, especially your business cards so buy cards that you can hand out without hesitation. They could be the best investment you make.
If you need any further assistance with your business cards, or any print for that matter, chat with us online, call us on 01332 418377 or email info@essentialprinting.co.uk
Updated: 5th March 2018