The only time we'll cut corners is with our Round Cornering machine.
Make your printing stand out from the crowd. One way to do this is to have rounded corners on your literature.
You can have rounded corners on your business cards, letterheads, compliment slips, whatever you like – all at a very affordable cost.
Variety is the spice of life, so depending on the design, it may be better to round off just one corner, or two corners, or go the whole hog and round corner all four? The choice is yours.
See how different cornering options can liven up your business cards. Take the Essential Print Services' Business Cards for example;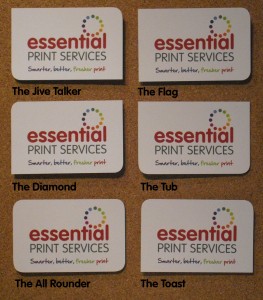 If you're unsure what your printed literature will look like with rounded corners, why not round corner a small batch of your order? This way, you can gauge the reaction from your contacts and clients before having the whole job done. And if you decide that round cornering does give your printing 'the edge', then you can have the rest of the job 'cornered' at a later date to suit you.
Our new service gives you the flexibility to have a small batch of your order with rounded corners, even with a variety of corner options.
Try before you buy. If you are still unsure, then why not pop by and try out the machine for yourself? Bring along a small batch of business cards or letterheads and let us show you how a small change can make all the difference.
Arrange your visit now by calling 01332 418377 or email info@essentialprintservices.co.uk