Read how, Essential Print Services' Owner, Yvonne Gorman found herself in front of one the world's most famous front doors:
THE HARDER I WORK, THE LUCKIER I GET

It was a cold, rainy miserable Sunday evening. I had a really tough week at work.
I was scrolling through twitter and spotted something about 'Small Business Saturday'.
It read: "Email your business profile for a chance to be part of the first Small Business Saturday 100"  
But I was so tired – did I really want to get my laptop out after working on it all week……but WHAT IF?
WHAT IF I sent the email and I became one of the first SBS 100?
From that email sent to the SBS Team, I stayed in contact with them. I volunteered help with promoting the initiative; after all, I had plenty of followers online, for Essential Print Services & PridePark.net. I could use all that collateral to help tell others about this fantastic initiative too.
ESSENTIAL PRINT SERVICES IS CHOSEN TO BE ONE OF THE FIRST SBS 100!

A few days later, I received an email to say my company had been chosen – GREAT – but what did it mean? Turns out, they would feature 1 business per day for 100 days as the SBS 100! If anything, I predicted we might get some extra online followers. Maybe an enquiry or two. And that's all I expected.
So WHAT IF there was some way that all 100 businesses could talk to each other? So I created a LinkedIn group and invited other SBS 100 businesses to communicate.  Yes, it created extra work for me but WHAT IF people networked with each other online and that created opportunities for them?  When the SBS tour bus visited Nottingham, I thought I had better visit them and introduce myself.
A few days after that, I receive another email to say, "the SBS 100 had been invited to afternoon tea at Downing Street". WHAT!
FROM DERBY TO DOWNING STREET



During my amazing visit, I met a whole host of people that day; Shadow Business Secretary – Chukka Umunna, Minister for Skills and Enterprise – Matt Hancock, and Chancellor of the Exchequor – George Osbourne.
In January last year, I was asked by Marketing Derby to be a panellist for their Annual Business Event at Derby Theatre. I believe if I hadn't of got involved with the various initiatives like SBS, like PridePark.net, they wouldn't have even known who Yvonne Gorman was, let alone ask me to be up there representing Derby's business community.
ESSENTIAL PRINT SERVICES LAUNCHES SBS 2014

Out of the original SBS 100, seven businesses were asked to exhibit at the British Library to help launch SBS 2014 and Essential Print Services was one of them. I was told that Mr Umunna would be there again along with other ministers and dignitaries. I was asked to go on stage during the event and explain how SBS has benefitted my company.
There's a video of this interview on a previous blog.
When I watch it back, I think, "Gosh that's me up there talking to lots of really important people! How amazing!"
Since then, I've been invited to be a keynote speaker at various local business engagements, which has been an absolute thrill and an amazing experience.
ESSENTIAL PRINT SERVICES HELPS TO HOST SBS AT DERBY CITY COUNCIL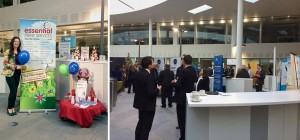 Just when I thought the publicity from the event had died down, in December I was asked to be a panellist for Derby City Council's very first Small Business Saturday event. It was a real honour.
And that's how reading one tweet and sending one email on a Sunday night, led to all that. That's how spotting one opportunity, threw open so many doors.
So the next time you doubt your ability. The next time you know of a better way. The next time someone tells you – you can't do that? The next time you have a glimpse of your dreams.
Ask yourself; WHAT IF?