Printed Stationery and Forms
Letterheads and compliment slips
With the digital age taking preference over traditional communication methods, printed bespoke stationery may be at the bottom of any respectable print buyer's list. But having just a small batch of printed letterheads and compliment slips can speak volumes about your professionalism and make a young company appear more established, especially if you use them for invoicing or important correspondence.
By simply including a compliment slip with an order, invoice or product sample will remind clients of your company's brand. Even better still, wherever possible, include a personal message. How nice would it be to see a compliment slip with a handwritten note saying, "Thanks for the order"? It is a nice touch and it will give you another way to communicate with your clients.
Doing things a little differently and getting personal will help you stand out from the crowd and will enhance your client's buying experience. It reminds customers that they are dealing with a human and not just an automated company.
If you've not heard from a client in a while send them a "we've missed you' letter. If you've won a new contract or client, send them a 'welcome to the team' or 'thank you' note. Or perhaps you could use letterheads to let contacts know of the latest developments and news. You could include a snippet of news at the bottom of your invoices or day-to-day correspondence. We work with some of the area's leading marketers and copywriters who would be happy to help.
Printed desk pads and notepads
Providing your client with a deskpad or notepad, branded with your logo and corporate identity is not just a useful office tool for your client, it's also a great way of getting your company in front of your customers. Ensure this happens all year round by including a calendar on the desk pad – your graphic designer can help you with this. If you don't have your own designer, just call us and we can steer you in the right direction.
Utilise your printed stationery as part of your digital marketing mix; the next time you write a blog or send out an e-shot, print out a few copies onto letterheads and hand them out at your next client meeting or networking group. This will ensure people read your blog and it will also heighten your profile because your logo will be on your letterhead.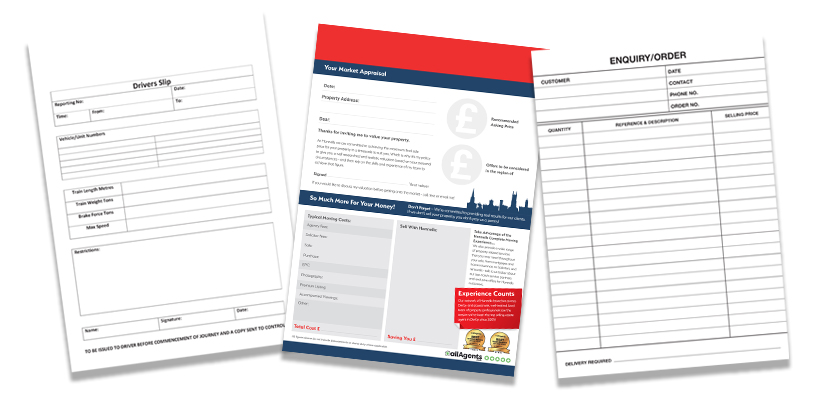 Printed forms
Duplicate Forms or Printed NCR Sets are still popular for businesses like courier companies or businesses who have to take orders away from the office. Being able to give a customer a signed copy of the delivery note or order form, saves time and money.
If you need more print ideas or would like to discuss how to make the most of your stationery, call us now on 01332 418377 for a chat or email printangels@essentialprintservices.co.uk
You may also find the following articles interesting: