As we fling ourselves into 2019, here are our top three print predictions for the year ahead (3-minute read):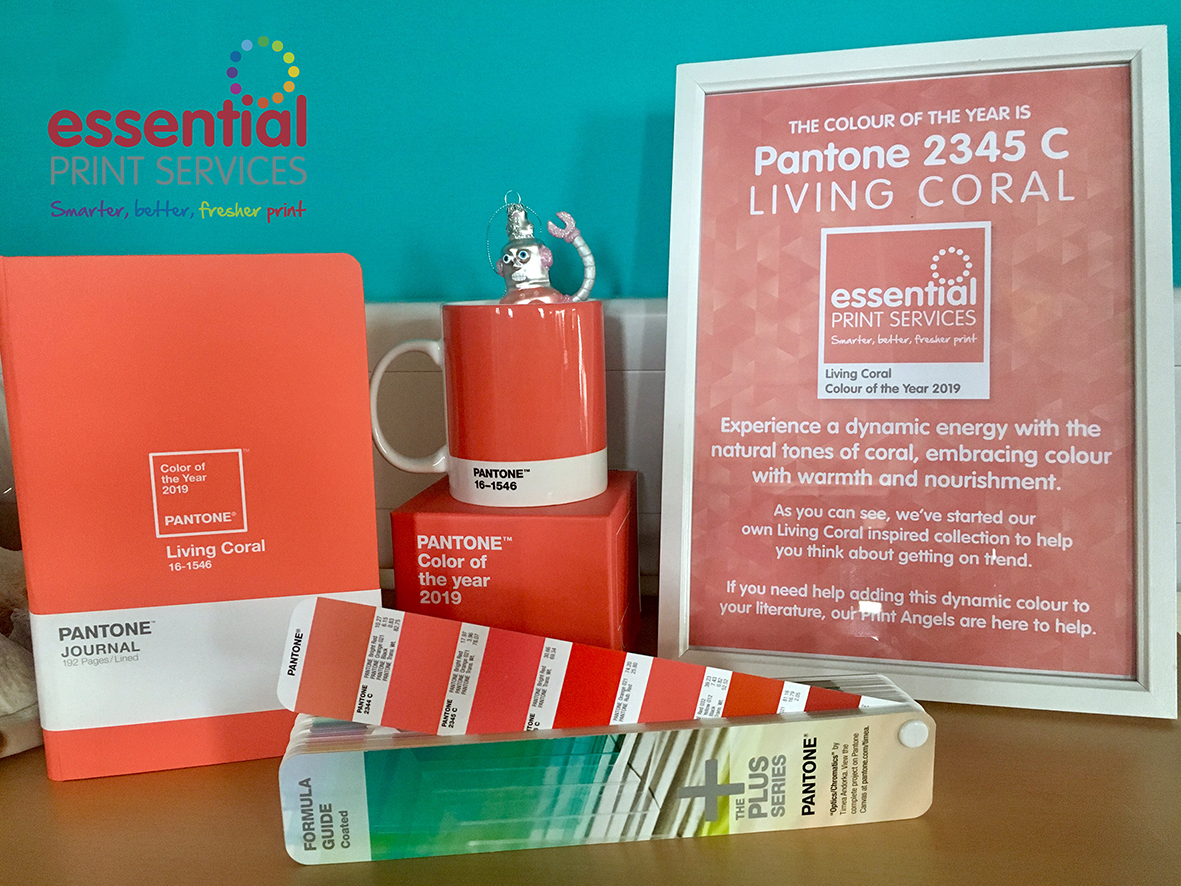 1) "Oh Coral, I am but a fool…"
OK, so we may have twisted Neil Sedaka's lyric slightly but Pantone's Colour of the Year was announced at the end of 2018 as being 'Living Coral'. We wrote about our excitement earlier this year.
For those who would like to include Living Coral in their own branded stationery; ensure your print suppliers are experienced and they know your expectations as Yvonne explains; "our excitement about Living Coral was soon dampened by the fact that this colour, albeit 'gorgeous', will be difficult to print for a lot of full-colour commercial printers, because of its luminosity. So, to avoid your full-colour print looking like a damp squib anyone wanting the Living Coral colour will need to use genuine Pantone Inks," commented Yvonne Gorman.
Talk to us about how to use Living Coral in your stationery. Or, let us know what you think to the new Pantone Colour of the Year.
If you plan to purchase off-the-shelf items in the Living Coral range, it will be a fool's game to buy stationery anywhere other than Pantone's website or approved stockists as Yvonne knows all too well; "I bought two Living Coral notebooks for our display in the office. The genuine Pantone notebook (£12.00 + £8.20 delivery) looks amazing! The other notebook, purchased elsewhere, (£8.00 with free delivery) looked nothing like Living Coral, more like a dead sponge. Lesson learned.
2) Take note!
Some of us may feel like they are drowning in digital notifications. If your emails are not pinging, then your Facebook messenger is, or your a Whatsapp group or someone has shared your Insta story…the list is endless. You know what it is like, you log on to your LinkedIn account to message someone, and 20 minutes later you still haven't typed that message.
Argh! Distractions are everywhere!
There are hundreds of computer or app-based reminder systems out there, but lots of people still revert to the trusted notebook.
There's nothing quite as satisfying for a stationery lover then crossing out a job well done or seeing an audacious goal accomplished in a real-life notebook.
"For the past three years, I've journaled – a daily list of bullet points of how I'm feeling and what's happened that day. I love looking back at previous diaries; 'on this day last year', to see how things have changed. It is fascinating. It helps me realise just how much I have achieved," commented Yvonne Gorman.
Last year, we experienced a surge in branded notebooks for our clients. We predict that company notebooks will be even more popular throughout 2019.
Giving notebooks to your staff and clients is a valuable gift, and they are more likely to be kept.
There are a wide variety available so if you'd like some branded notebooks for your staff and clients, email us for a price list printangels@essentialprintservices.co.uk.

3) Get personal, get printing!
We predict a continued increase in print spend. OK, so you might read that and think, 'you would say that you're a print company."
Let us explain.
According to Royal Mail MarketReach's research; 87% of people consider printed mail believable, only 48% say the same for email.
With stats like that, it proves that print is still a powerful method of communication. But, there is no point spending for spending's sake – we have always advised our clients to order printing wisely.
Yvonne said: "Most of our time is spent talking to people about how best to print their literature, helping them with artwork and finding out how they plan to distribute items such as business cards, flyers, leaflets and brochures. If we think there is a more economical, faster or better quality way to print their order, we will mention it. Having hundreds of magazines or folders left in a cupboard doing nothing doesn't help anyone. It doesn't help your profits or planet earth."
Royal Mail's advertising campaign sums up the power of direct mail; "there's 459 TV stations, 728 radio stations, 55 million websites and only one letterbox!" so, cut through the digital noise, get printing and get your brand out there. Before your print reaches your customer, ask yourself; am I proud it of? Will it make an impact? How will I know if it is successful?
If you need our help to get your company seen in 2019, then call the Print Angels today on 01332 418377. If you have a print idea for you or your business, do not delay – 2020 will be here in no time.