Here's a blast from the past; Yvonne Gorman was photographed recently with Maria Hanson MBE from me & dee charity holding one of our newsletters from Autumn 2012! How time flies.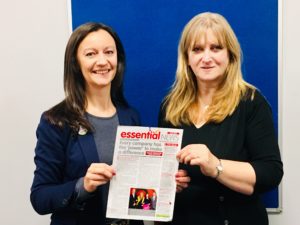 In the article headlined; 'Every company has the 'power' to make a difference' we explained how "when times are hard I believe it's more important than ever that we do what we can to help the less fortunate and as a business it doesn't have to cost you a lot. Sometimes, all it takes is a little of your time and expertise to make a huge difference to a local charity of not-for-profit-group."
The message still rings true today; here at Essential Print Services our commitment to helping charities remains solid and we continue to support me & dee charity – here's why: "Essential Print Services has been an avid supporter of Me & Dee for a number of years. The sheer amount of work untaken by a small team of volunteers and Maria Hanson MBE is unfathomable. Their relentless pursuit to create memories for families who have life-limiting conditions is so admirable. Quite often, these families do not have much longer together, which makes their work invaluable. I know that every penny donated goes directly to the right places and the team are remarkable at making every pound stretch. Their attention to detail is second to none. If any business is looking for a Charity of the Year, I urge them to give Me & Dee the opportunity. I've never known a charity that is so proactive at showing their gratefulness," said Yvonne Gorman.
If you would like to get involved with a local charity but don't know where to begin, call us on 01332 418377 and speak to Yvonne about her experience.