"What do I need to put on my letterheads?" This is one of the most frequently asked questions at Essential Print Services.
After many years of creating artwork files for print, we have seen hundreds of letterhead proofs, which means we have a good idea of what needs to go on them!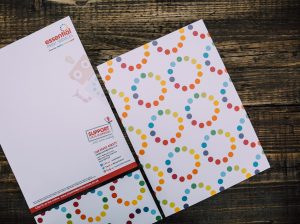 Using this experience, here are our three top tips on what to include on your letterheads.
1) If your company is a Limited entity, you must display your Company Registration Number, the registered office address (if it's different to the trading one) and the full legal entity (i.e. our official business name is; Essential Print Services (Derby) Ltd).
2) Some people include VAT numbers because they use their letterheads for invoices, but a VAT is not compulsory.
3) It's best practice to include a landline and a generic email address. Using mobile numbers and Gmail accounts won't give the best first impression.
But what else?
As well as content, there are a few other aspects to consider. Firstly, you should consider how many copies you need. Buying more letterheads than you actually need is a false economy. You're denying yourself the opportunity to refresh your design and update information if required.
Secondly, we recommend our 120g wove paper, which gives a fantastic finish. This is suitable to run through your office printers and looks great. However, we do offer other papers too!
If you already have your letterhead design and you'd like advice, email it to us and we'll take a look for you – no obligation!
If you'd like to see samples of our letterhead paper or would like a price list, simply call the Print Angels on 01332 418377 for a FREE swatch pack.
Are you wondering about business cards too? We have a super detailed blog about what to include on your business cards here.