Happy Monday.
My top pick is Birchover Luxury Apartments. Based in Darley Abbey, the company is family-run and is dedicated to exceptional customer service. This is proven by their uninterrupted top 1 position on TripAdvisor for over a year.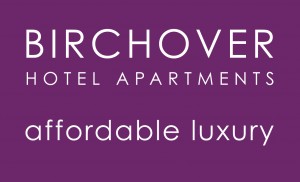 I had the privilege of staying in one of their apartments last year and it was a fantastic staycation. I particularly liked what's hidden behind the wardrobes, but I won't spoil the surprise for you though – you'll just have to stay there and find out for yourselves. From the moment I walked in, I felt it was a home from home.
Birchover owners are husband-and-wife, Carl and Lisa Bridge. Their team is a testament to their attention to detail and business acumen. I really admire how they run their company and how they continually strive for positive innovation and that's why I've chosen Birchover for my first top business of Local Business Week.
So to find out more about my Monday Top Pick, visit: www.birchover.com/darley-abbey
Find out how Essential Print Services is supporting Local Business Week here.