Our very own Yvonne Gorman has just returned from this year's Small Business Saturday UK launch, to celebrate the official start of the 2016 campaign.
The event was held at the PRS Music Headquarters, located at the prestigious Number Two Pancras Square.
Yvonne met a number of small businesses from London and she was flying the flag for the city of Derby, telling people about her city's plans for this year's event, which we will reveal to you very soon.
"It was great to catch up with some Small Business Saturday 100 alumni, particularly Albert & Russell from Fifth Dimension Chocolates. There was certainly a foodie theme because I also met Lavinia from Lavolio Boutique Confectionery and Becky from Lady Bakewell Park – yum!" said Yvonne.
She added "the Small Business Saturday team played a video to launch the event – it was a lovely surprise to see Essential Print Services featured on there too, not once, not twice, but three times!"
Yvonne travelled down to London with fellow Small Business Champion, Elaine Pritchard from Caittom Publishing, who is also a valued client of Essential Print Services and of course, they took advantage of the networking opportunity during the journey.
If you'd like more information about how to get involved with this year's event, email Yvonne or give her a call on 01332 418377.
There are three things you can do straight away to get involved. Click here to did out more.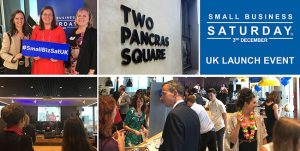 Caption for montage, top left photo, from left to right, Yvonne, (Yvonne is one of an exclusive number of champions for the initiative), with Michelle Ovens MBE – National Campaign Director for Small Business Saturday UK and fellow Champion, Elaine Pritchard from Burton-based Caittom Publishing.