Now, more than ever, we will need to help each other.
Here are a few ideas about how you can help your company, business buddies and your community during this time: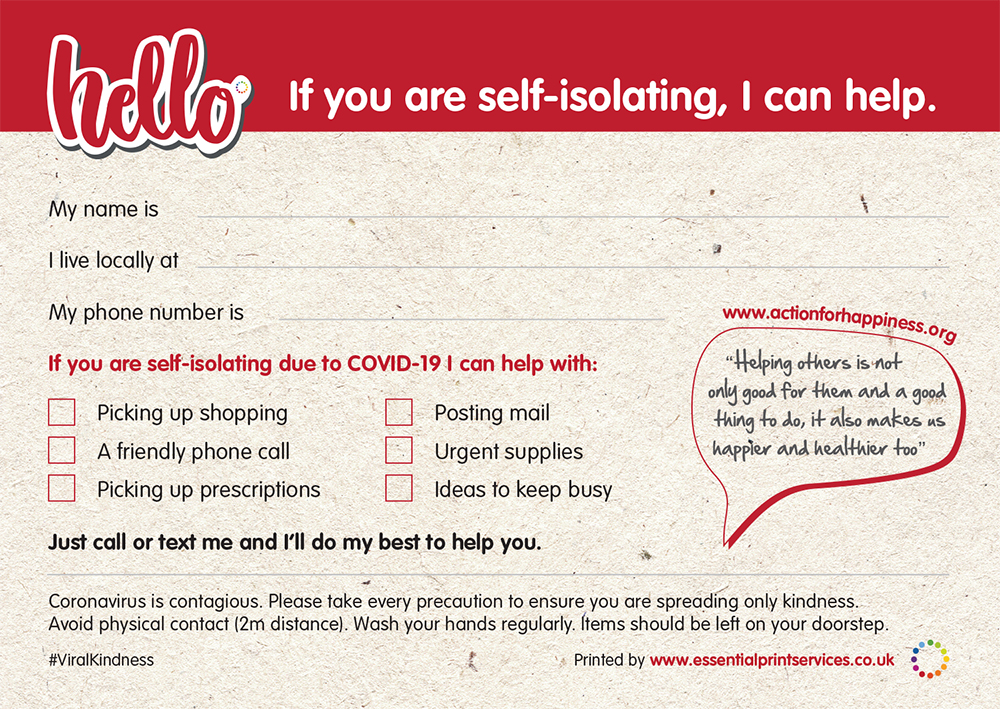 'Help your neighbour' cards:  If you would like to make your neighbours aware that you can help them, we have printed a supply of cards for you to post through their door. If you would like a supply of cards for your community, email us your postal address together with how many cards you need and we will send them to you free of charge (max 30 per person and subject to availability. Need more than 30? Get in touch).
Gift Vouchers: let your customers buy gift vouchers from you to use at a later date. Consider extending the validity too. We can print gift vouchers or create digital versions for you. Get in touch for advice and prices.
Virtual Networking: Most events have been cancelled but many people still need to promote their business. Why not host your networking event virtually using free online software, like Skype, Google Hangouts (free 14-day trial) or www.powwownow.co.uk (free 60-day trial or £10/month).
Hosting a seminar? Create a private Facebook Group, invite the attendees and publish a Facebook Live event.
If you dislike being in front of a camera, then organise a group chat with your networking guests using Whatsapp or BAND. https://band.us/
Digital Flyers: If you've had flyers or leaflets from us recently or if they are on your list to order, we can convert your designs into digital flyers that are suitable for Facebook, Twitter, Instagram and LinkedIn. Get in touch for advice and prices.
Communicate #viralkindness: You are not alone! If you or your business are struggling, reach out for help. Talk to your friends and business buddies about your situation. Pick up the phone and 'check-in' with people.
Stand out from the crowd: When this is all over, make sure you've done all you can to stay at the forefront of everyone's mind so when they do need your product or service again, its YOU that they call.

Here are several websites containing useful advice and information for your business.
If you are experiencing symptoms or are feeling unwell, visit the NHS website for the guidance of what to do next: https://www.nhs.uk/conditions/coronavirus-covid-19/

We are here to help in any way we can. We wish you all the very best. Look after each other and stay safe!
If you would like to find out what measures we're taking to keep our team and visitors safe, visit our Essential Business Update.