The Print Angels at Essential Print Services are celebrating achieving two of the best months in the businesses' history.
The print company, based on Pride Park in Derby, achieved a 20%+ increase in sales in both September and October compared to previous months in the current financial year. These are the best two months since the company was founded in 2011 by Yvonne Gorman. Since then Yvonne has built her business to be one of the leading print companies in the East Midlands, having now had more than 1,600 customers, most of which return on a regular basis.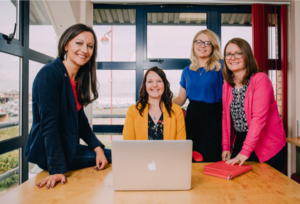 Yvonne commented: "For the past four years, we have achieved a 5% year-on-year sales increase, so to see this leap to 20% for recent months is amazing. We were absolutely thrilled when we saw the 20% increase in September, and then even more so when it continued into October! We don't want to tempt fate, but November is looking promising too so hopefully it's a trend that is set to continue! It all of course couldn't be possible without my amazing team of Print Angels and all of our wonderful customers."
From business cards, brochures and leaflets, through to folders, flyers, banners and promotional items, like mousemats USB sticks, mugs and pens, Essential Print Services can handle anything from conventional full-colour print to some of the most bizarre print requests. The team can also assist with the design and checking of artwork, and a 12-Point Artwork Check is carried out on every order, completely free of charge, to ensure absolute perfection and the highest quality possible.
For more information call 01332 418377.