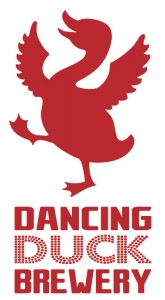 Happy Wednesday!
My top pick for Wednesday is the Dancing Duck Brewery.
Dancing Duck brewery was founded by husband and wife team Ian and Rachel in December 2010.
Ian has worked as a brewery design engineer for 14 years, his job has taken him all over the world from Newcastle to Africa to Bury St Edmonds to the Caribbean to the Blue Ridge Mountains of Virginia and then back to Burton on Trent again.
He figures out the design for the breweries and how they will run most efficiently whilst having the least impact on the environment, then when they have been built, he goes off and makes sure they all work properly. He loves real ale and has been drinking it for as long as he can remember but it was actually his wife who came up with the idea to open a brewery.
It's Rachel who runs the brewery on a day-to-day basis, as far as she is concerned brewing is the best job she's ever had, "it's immensely satisfying producing something that you know people have been looking forward to all day or week and are going to really enjoy."Tweet them @dancingduckbeer or call them on 01332 205582. Why not visit one of their pubs which can be located on Langley Street and Exeter Place, both of which are located in Derby.
To read Tuesday's post all about Mind Fit Coaching head here.
To find out why Essential Print Services are supporting Local Business Week click here.