Here at Essential Print Services, we are delighted to announce the arrival of a new Print Angel Jilly Rapley.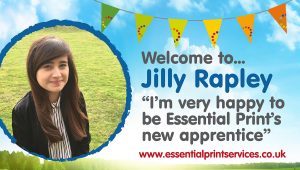 "I've recently become a Print Angel at Essential Print Services. This has been a great experience for me, working and meeting new people in the office and others who come through the door! I'm always kept busy and happy to be working here. I love seeing new and creative printed products come, either designed by customers or us, they're always vibrant, unique and exciting."
 Here's some fun facts about Jilly:
-Would you bungee jump?
I've never done it before but I would love to
-What's the first thing you notice about people?
Hair and eyes
-What was the last 'tune' you bought?
A Nirvana Vinyl Album
-Who's your hero?
Hannah Pixie Snowdon, I find her inspiring because she's talented, does what she loves and does a lot of charity work
-What's your favourite food?
Asian cuisine such as Chinese, Vietnamese etc. but I also love sweets
-Where is the furthest you have been from home?
The furthest I've been from home is Vietnam but I class that as a home too so probably Oman.
-One band you would love to see live before you die?
Simple plan, Mcfly, I'm not sure probably any I used to listen to when I was little but have never seen live
-What's the least favourite thing about yourself?
My height
-What are your hobbies or interests?
I watch a lot of TV shows and anime, I also love drawing and painting. I like going to the cinema to see new films and going out.
-What are your biggest fears?
Not having internet
-Any pearls of wisdom?
Treat others how you want to be treated.