If you were fortunate enough to be within the vicinity of Derby's historic Cathedral Quarter on Wednesday the 14th September, you may have witnessed or quite possibly, even participated in the Small Business Saturday Flash Mob – it took Sadler Gate by storm!
The clever publicity stunt was carefully orchestrated by non other than the Print Evangelist herself, Yvonne Gorman of Essential Print Services. The Mob, which was by no means unruly, congregated in a show of small business solidarity and to help promote themselves as well as their offerings by brandishing their company logo on a piece of card in Derby City Centre.
The purpose of the gathering was to highlight the eclectic community of small and local business within Derby and Derbyshire in the run up to the main event taking place on Saturday 03rd December at Derby City Council House.
This particular Saturday has been affectionately dubbed "Small Business Saturday" and on this day the focus is being firmly placed upon such businesses nationwide in order to showcase the vast array of products and services that they have to offer. It's also an opportunity for customers to come out and visit the smaller businesses to appreciate the benefits and advantages of shopping and indeed spending locally.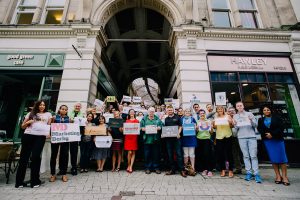 As only one of twenty Entrepreneurs chosen to spearhead the "Small Business Saturday" campaign, Yvonne Gorman takes her role as an Ambassador extremely seriously and is pulling out all of the stops to ensure that the small businesses of not only Derby and Derbyshire but the entire East Midlands, are well represented and firmly in the spotlight come the 3rd December.
"The Flash Mob was phenomenal and a perfect way to launch Derby's involvement in Small Business Saturday. It was nerve-wracking to begin with – I worried that no one would show and then all of a sudden Sadler Gate came to life with a hive of conversation and small business owners armed with their company logos." said Yvonne Gorman who started Essential Print Services in 2011 on Pride Park.
Yvonne added; "the feedback I've had already is that a number of connections have been made in a short space of time. That in itself is a result and makes all the effort in promoting the event worthwhile."
"The Small Business Saturday UK team in London have already contacted me for an interview. They want my help to try and organise a series of Flash Mobs throughout the country. This sort of recognition is getting Derby on the map as a supporter of start-up companies and small businesses – awesome!" Yvonne concluded.
In recognition of Derby's efforts, the Small Business Saturday UK Bus Tour is coming to Derby for the first time! The Market Place will place host to the iconic bus on Monday 7th November, 10am-1pm. It'll be perfect for anyone wanting find out more about the campaign and how to support small businesses and also, meet the Small Business Saturday UK Team.

Small Business Saturday is already the UK's most successful small business campaign. This is the fourth year of the campaign, which last year saw £623m spent with small businesses across the UK on Small Business Saturday, an increase of £119m or 24 per cent on the previous year. The campaign trended at number one in the UK on Twitter on the day with more than 100,000 campaign-related tweets being sent. Over 75% of local councils supported the campaign, giving considerable national reach into local communities.
The campaign is a great nationwide promotional and marketing tool for small businesses. It is totally free to participate and any small businesses can get involved – from one-man-bands, through to a high growth office, and from tradesmen to social media gurus. In addition to the big day, the campaign also delivers help and advice alongside opportunities to connect with other small businesses. In short, Small Business Saturday exists to support, inspire and promote small businesses.
"The British public has a great affection for small businesses and we continue to see that grow year on year.  Small Business Saturday is an exceptional example of collaboration and co-operation with small businesses teaming up in communities around the UK," explains Campaign Director Michelle Ovens.
"Although the campaign focuses on one day, the goal is to have a lasting impact on small businesses by changing mind-sets, so that people make it their mission to support small businesses all year round. Most people in this country own a small business, work for a small business or know somebody who does, so supporting a small business on Small Business Saturday is absolutely personal."
Here is what a few businesses had to say about the event:
'It was great to see so many people turn out for the flash mob Wednesday morning. Seeing so many small businesses together is amazing and it's always good to catch up with other local businesses and network. Roll on the bus tour and Small Business Saturday!'
Wright Start 
Derby
'What a great way to start the day! – coffee and conversation having fun networking with a group of local entrepreneurs all coming together to support #Smallbusinesssaturday'
Team FLP LTD
Derbyshire
'As someone new to Derby and new to business, it was good to see so many friendly and talented locals grouped together to network and drink coffee. Such a fun idea, would love to do it more often!
DVL Design Company
Derby
'It was great to meet lots of other small business who I had not met before, some brilliant people with a common sense of purpose. We all had fun and enjoyed the photo shoot. So much to talk about with so many people.'
Headstart Coaching Limited
Derby
'I'm excited that Small Business Saturday UK is getting bigger every year as more people find out about it through events like the Flash Mob. Great to see people come together to celebrate all that small businesses do for the local economy.'
Caittom Publishing Limited
Burton on Trent
So why not get involved? There are a series of free to attend workshops taking place up and down the country led by small business owners and Entrepreneurs. These workshops will be broadcast via the Small Business Saturday YouTube Channel. There is also the option to follow the workshops through live Twitter Q&A sessions.
To find out more about "Small Business Saturday" in Derby and how to get involved either as a Small Business or a supporter, please visit: www.smallbusinesssaturdayuk.com or contact Yvonne directly via email at von@essentialprintservices.co.uk
For more details about the event that is taking place at Derby's Council House, visit www.derby.gov.uk/sbs
Photographs courtesy of JAKT Commercial Photography