It's time for the Olympic liftoff!
This week marks the start of the 2016 Olympic Games! From now until the 21st August we assume most of you will be fully immersed in the sporting events. We will be supporting team GB this Summer, will you?
To celebrate a summer of sport, we've designed three winning print deals, which you can claim right up until the closing ceremony. But first, our Print Angels would like to reveal their favourite events:
Yvonne: 'I used to take part in the 200m races at school, and it was then, that my passion for running began. I now take part in the annual 13.1m Ramathon and also later this year, I'll be running in the very first Derby 10m race.'
Lindsey: 'My favourite Olympic event is by far the Eventing! The cross country is the best as it's just so unpredictable – the thrills and spills of the horse riders never fail to entertain. A great sport!'
Lee: 'Triathlon – it is a good mix of disciplines which shows the ultimate athlete over an exciting and enduring race. Awesome!'
Katie: 'For me, it has to be the 100m finals! It's amazing to see the Athletes in their top form.'
So, will you be going to gold this summer? Here are our three Olympic Offers for you to take advantage of: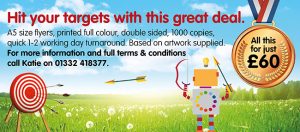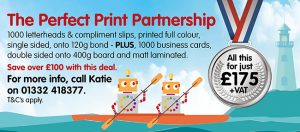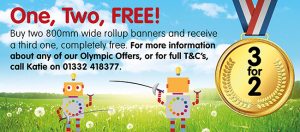 For more information and for full terms & conditions, give Katie a call on 01332 418377 or drop her an email at katie@essentialprintsevices.co.uk for more info.