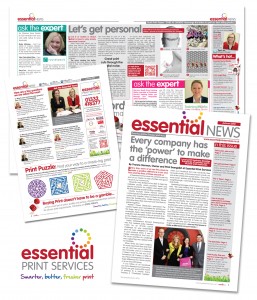 Hot off the Press!
We are pleased to announce the release of our Autumn Newsletter.
Included in this issue:
Fail to plan, plan to fail. Page 2:  Liz Strama from Route to Exit reveals some great tips on how to add value to your business.
Let's get personal. Page 2:  Direct Mail is here to stay and by knowing what's available, you'll be sure to make your next campaign a success.
The 'C' Word.  Page 2:  You can't avoid it and it's the same day every year. So why do people leave it until the last minute? This year, let us help you prepare for a cracking corporate Christmas.
How to exceed expectations and keep your clients coming back for more. Page 3:  Marylou Booth from Training Works tells us how you can increase your profits with excellent customer care. Find out how readers of Essential News can receive a FREE copy of her latest book by turning to page 3.
What's hot and what's not. Page 3:  Derby's very own Print Angel gives us her run down of the best and worst in the print world right now.
The Essentials. Page 4:  Yvonne and Laura from Essential Print Services answer their clients' frequently asked questions.
Print Puzzle; find your way to a-maze-ing print. Page 4:  A good old fashioned puzzle – just for fun. Go on, have a go. Have you spotted the Quick Print Teaser on page 3? Or what about the print joke on page 2?
To request your copy, simply email laura@essentialprintservices.co.uk and I will send one out to you!
Thanks for reading.