Thank you for joining me for the fourth instalment of my Print Blog. These last two weeks have been absolutely fantastic, August has been a record breaking month and an absolute blast! As you'll know by now if you've been kind enough to follow my blog, I am the new girl on the print block at Essential Print Services.
I've written other blog entries including Networking 2.0, a Challenge Anneka style blog and a Print Angel introduction; do feel free to pop along to those pages for a read.
What's new with the Print Angel this week?
Well, this week I'd like to talk about a week in the life of Social Media for Essential Print Services.
Whether your business isn't on the Social Media scene yet, or you are very keen on keeping up with the latest in online trends; this blog will give you an insight on how we run an effective Social Media campaign that works for our business. Hopefully you will find some useful tips, you will begin (or continue) to interact with us and you'll enjoy reading!
What Social Media platforms do you use?
Firstly, Linkedin is an essential business networking tool and we love to use it. It's a brilliant (and quick!) way of keeping in touch with professional contacts. Think of it like a Facebook for business. When you meet people at networking events, send them a connection request on Linkedin to keep in touch. They might start providing a service you need, or vice versa.
Google+ is a similar platform to Linkedin whereby it has more of a professional edge. You can link this in with your Google local account, so that people who Google you can see your updates. Oooh, fancy!
We also use Facebook – this is a great and fun way to keep our clients and friends up to date. We use Twitter for the same purpose, it's always a challenge for me to keep to 140 characters though… (Don't nod!)
Another good social media platform for creative types like us, is Pinterest. It's essentially an online pin board where you can 'pin' images from anywhere on the web, or upload your own, other people can see them and in turn 'pin' them to their boards.
So, what do you post on your Social Media?
Well, we have daily themes, which is a great way to engage people with your content and leave a lasting impression.
Manic Monday – Currently for our Manic Monday feature, we have teamed up with Julian Hall from Beating Anger Derby to provide stress-busting tips.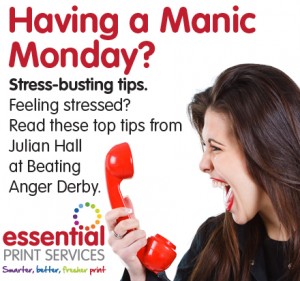 Charitable Tuesday – At the moment, we are asking people to nominate a chosen charity to be entered into our monthly prize draw to win £250.00 worth of free print.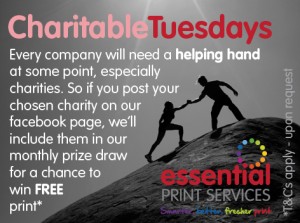 Wise Wednesday – Our wise owl will provide you with words of wisdom on a Wednesday, or a business tip. Don't be a twit-twoo and miss these updates.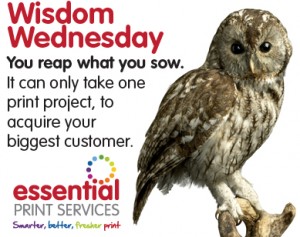 Thirsty Thursday – We are running a competition whereby if you simply answer a question on our Facebook Page you can win free tea & cake for two at Bean Caffe in Friar Gate Studios.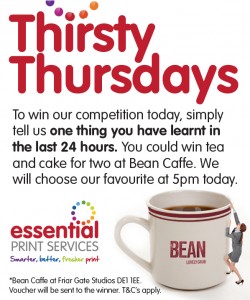 And Follow Friday – This is where we give a 'shout out' to fellow professionals that we have enjoyed interacting with during the week and we encourage all of our followers to get involved in interacting with them too.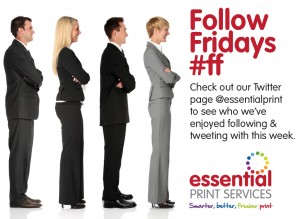 So as you can see, we are busy bee's when it comes to Social Media. Is it worth it? Absolutely. Join us and see what all the fuss is about.
As always, I'd welcome any feedback or a quick 'hello' so email me at laura@essentialprintservices.co.uk
Thanks for reading.