As the Print Angels wind down for Christmas to recharge their print magic, here is an insight into what 2016 has meant for them:
Lindsey: Working with so many different businesses in and around Derby has really opened up my eyes up to what our city has to offer. As Essential Print Services is a bondholder of Marketing Derby, it is always really interesting to see what plans are in store for the future of the city and it's businesses.
There have been many personal highlights for me this year; trips to Ibiza, Edinburgh and London, I have also moved house and performed in a pantomime at the Guildhall – it's been a busy year!
I don't usually make New Year's resolutions as they tend to not last very long, but I hope to go on a couple of holidays and visit a few new places 🙂
Lee: My best bit of 2016 was getting to meet lots of new people from around Derby and being able to turn their ideas into a fit-for-purpose piece of design work.
After spending 5 years working out of Derby, it feels great to return to the city with Essential Print Services!
My 2017 New Year's resolution is the same as every other year's resolution, to get fit… I'm still working on it!
Katie: My best bit of 2016 was taking part in Small Business Saturday. I got to meet lots of local, small businesses and really promote and celebrate their success.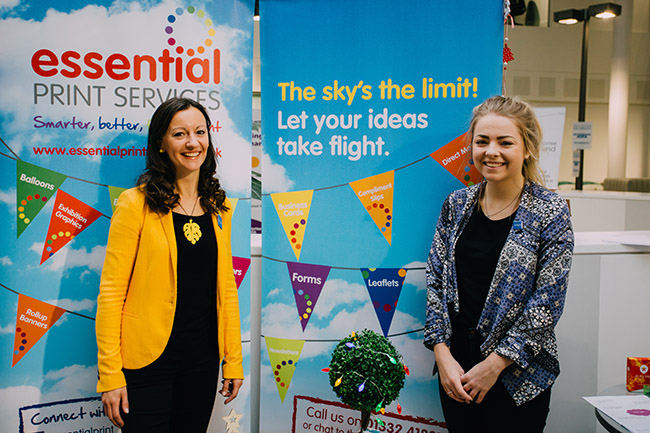 A personal highlight of the year was a holiday to Thailand. I had never been so far from home but it really has given me the travelling bug. Let's see where 2017 takes me!
My New Year's resolution for 2017 is to get back in the gym (I have had about a month off) and not to worry as much about things.
Von's View: 2016 in one word 'awesome'.
When I scroll down the hundreds of comments on our testimonials page and read all the reviews on Facebook and Google+, I grin like a Cheshire cat because it proves that, even in our sixth year of trading, we're still doing a great job. There is one testimonial that stands out for me, "…better quality than the BBC Countryfile calendar". This was a review from a photographer who ordered 100 A3 calendars from us using their own images. Being a big Countryfile fan myself, this was a huge accolade.
We actively encourage feedback throughout the year because it provides a fantastic insight into how we can improve further and grow the business.
The biggest challenge for me this year was having an entirely new team, who all started around about the same time. For some companies, this could have had a negative impact on sales and profit but, with a very steep learning curve and enthusiastic new recruits, we still achieved record breaking months. Naturally, new people bring new perspectives and ideas, which gave me a whole new level of motivation too.
One of my biggest passions is helping small businesses and so, I was honoured to be crowned, yet again, Small Business Saturday UK Champion – one of only ten in the country. This year's event was a big success. To find out more visit our blog; "Success for Derby's Small Business Saturday UK event"
My favourite moment in my personal life has got to be my winter wedding. I got married on 10th December to my 'Prints' Charming; Jim Leafe. It was certainly a Derby-themed wedding. It started at Derby's Council House Chambers, then a '90's dance' marching band led our army of guests through the city's streets and then we celebrated, long into the night, at Derby's historic Silk Mill Museum. We had an epic day.
2017 potentially, has a lot in store for Essential Print Services – it revolves around growing the business and our team. My approach has always been to grow steadily because I believe it creates a stronger, more secure business. This ethos has worked very well for us so far – onwards and upwards.
I'd like to finish by saying a HUGE thank you to everyone who works behind the scenes at Essential Print Services. To all our amazing clients, suppliers and Print Detectives – you've helped make 2016 incredible and I look forward to the year ahead. Merry Christmas.