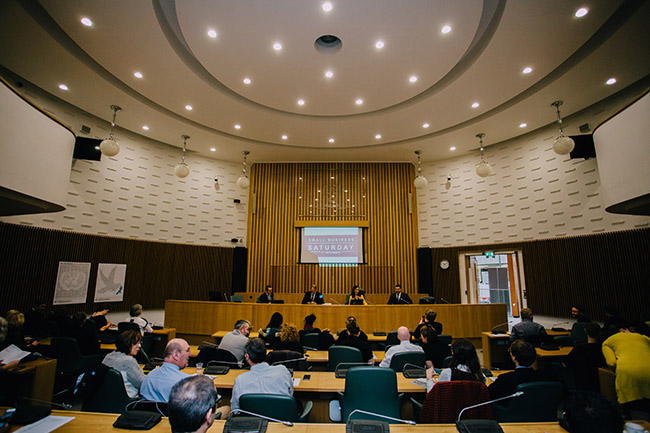 Saturday 3rd December saw almost 100 businesses attend Derby's event at the council house to celebrate Derby's small enterprises, meet like-minded people and take part in free workshops.
Heading up proceedings in Derby was local, small business owner, entrepreneur; our very own Print Evangelist Yvonne Gorman. Yvonne, who is only one of ten Small Business Saturday Champions tasked with spreading the word across the country, was overwhelmed by the response of everyone involved.
Yvonne kicked the day off, bright and early at 7am with an interview at Radio Derby, highlighting how small businesses can stand out against larger competitors and why supporting small companies really does benefit everyone.
Pictured above in the yellow jacket (in the Mayor's chair), Yvonne introduced the day with a passionate speech – here is an excerpt:
"Small businesses are the lifeblood of our economy – and they make our communities stronger. The hard work of those who run them and work for them – the early starts and the late finishes – all these efforts help create jobs while providing the goods and services every neighbourhood and business community needs. Small Business Saturday 2016 is our chance to say thank you to the pubs, plumbers, butchers, garages, cafes, the printers and all the other businesses that are the backbone of our communities."
"I'm the proud owner of a small, local, independent business based on Pride Park called Essential Print Services. Four years ago, I was asked to represent Derby's small business community and visit No. 10 Downing Street as part of the Small Business Saturday UK initiative. Since then, I've been crowned 'Small Business Saturday UK Champion' and I've made it my mission to fly the flag for Derby's small enterprises, because I am passionate about my city and I admire anyone, who like me, takes that leap of faith and starts their own company."
"Together with the support of Derby City Council and in particular Council representative Chris Pook, for the past two years, we've organised this event completely free of charge, where local, small business owners can network and learn new skills, attend talks and free workshops. Today, you'll meet like-minded people who you can talk to about ideas and issues in a relaxed informal environment – you may even gain a new customer or two."
Yvonne then introduced Michelle Ovens MBE, Campaign Director for Small Business Saturday UK, who provided a personal message for the Derby event:
Showcasing their products and services, 30 exhibitors took centre stage to highlight the valued contribution that small businesses make to the local economy and indeed the UK High Street as a whole. The day saw a jam-packed agenda of talks and workshops for all attendees, giving them valuable insights into how to make their business stand out from the crowd but above all, how to be successful in today's testing trading conditions. Two of the workshops that took place were hosted by Loates HR and Shapcotts Accountants and they were both bursting with really useful yet practical information.
Our very own Print Angel, Katie Fitzpatrick was available to offer sound advice and exclusive deals. Katie even streamed a few videos live on our Facebook page – check them out.
City Centres all over the UK were taken over by independently owned enterprises in a show of strength and solidarity, encouraging shoppers to keep it local when considering or making their purchases. A huge £717m was spent with small businesses on the day throughout the country, an increase of 15% on last year.
To view more photographs from the BIG day for small businesses; visit JAKT Photography's commercial website.