As the new girl on the print block at Essential Print Services, I feel compelled to write a blog to record all of the new experiences that I will have in the foreseeable future as I start a career in the Print industry. Largely because it will be great for me to look back on for my own personal and professional development – but also because I thought it would be exciting to share those experiences with you.
So whether you've been in the print industry for years, you're about to start your own career in a new industry or perhaps you just enjoy reading other people's experiences; you are most welcome here.
A little bit of background to start off. My name is Laura, I am 27 and my career to date has been largely in Customer Service and Account Management.
So, why print?
Well most importantly I'm passionate about stationery, notebooks and quite simply. gorgeous print! I've always been an avid writer and I don't mean text messages or emails… Good old fashioned pen to paper. I certainly don't profess to be an amazing wordsmith but there's something special about taking the time to create something, hold it in your hand and present it to someone else. Be it a personally written letter, a business card, a book – something that leaves a part of you with the person that you gave it to. To be in the knowledge that they can refer back to it whenever they might need inspiration, or someone to call.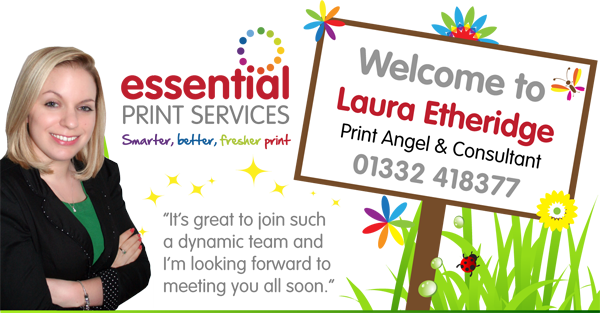 I've started writing this blog 2 weeks into my new position as 'Print Angel & Consultant' here at Essential Print Services, based on Pride Park in Derby. I thought it would be too much to start the blog on my first day when there was so much to take in.
I'm somewhat of a print obsessive, which is why I find the industry so compelling. What I don't have currently though is the knowledge to underpin my print passion, which is why I am on a journey of discovery; to learn, to experience and share.
I don't need to worry too much though because I share my office with a Print Evangelist; Yvonne Gorman, the owner of the business who has over 14 years of experience. She is always on hand to answer my many questions and show me the ropes. I doubted that I would ever meet anyone as enthusiastic about stationery as me, until I saw Yvonne hugging a box of letterheads that were fresh off the press. At that point I knew, I was in the right place.
So I begin this blog on a landmark day – my first customer order was completed and collected today.
Hurrah!
I have to admit, I checked the Business Cards so many times it made my eyes hurt. Such is the importance of proofing reading, I didn't want to take the chance that there might be a problem. Essential Print Services have somewhat of an unrivalled reputation for quality and attention to details and I didn't want to let that slip, regardless of my limited experience.
It was really exciting to be holding something where I had a part to play in the initial discussion with the customer, the design, the printing, the proofing and the delivery – full circle! It felt good to be able to hand them over to the client. When they pulled out their phone to check the QR code on the Business Cards (which I'll admit, I had obsessively tested about eight times…) I had butterflies. Of course, the QR code was fine and the customer was really pleased with their new Business Cards – phew!
I am looking forward to many more instances of being able to hand over complete orders that I have played such a big part in. It's exciting to be able to take a design brief or a print ready design and turn it into something tangible that you know will be passed from hand to hand, every day.
So on that positive note, I'll sign off for today. I look forward to my next installment of the blog where I will have many more print stories to tell you about.
But before I go, I'd welcome any feedback or welcome notes so email me at laura@essentialprintservices.co.uk
Thanks for reading.