Here at Essential Print Services, we are proud to announce our new arrival…
A mini baby banner!
Our mini roll up banners are digitally printed with a scratch resistant coating onto genuine stoplight material (just like the big ones). They come with a mini cassette & pole and require minimal looking after, although we do recommend giving them a hug every now and again.
Mini banners are perfect for your reception area or to take to networking events with you.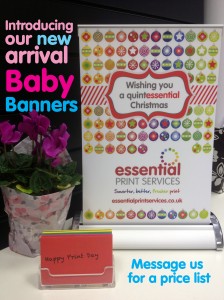 Email us on hello@essentialprintservices.co.uk for a price list.
They're precious! How do I place an order?
If you would like to place an order, please send over your artwork in .PDF format to hello@essentialprintservices.co.uk and let us know whether you would like a girl (A4) or a boy (A3).
You can also call the Print Evangelist and Print Angel on 01332 418377, we'd love to hear from you.
Have a great day!