Happy Charitable Tuesday and thank you for joining me for a very special blog post today. Every day, each of us has the power to make a positive difference in our own lives and the lives of those around us. Here at Essential Print Services we certainly see it as part of our mission to help charities and good causes in our community.
In light of that fact, we are thrilled to be able to help a number of charities that do some amazing work in and around the East Midlands. Each week, I will be spotlighting a charity that we work alongside in order to help raise awareness for their cause and to encourage local business owners to get involved with a local charity.
This week; I am blogging about a charity which is very close to our hearts at Essential Print Services and that is me&dee.
Who are me&dee?
The concept of the non for profit charity me&dee was the brain child of Maria Hanson and her very close cousin, Delia. The charity provides treats and special moments where time is precious, conscious of the impact that a treat created for just £100 can have, with personal attention to create special memories. These treats and special moments are created for children and adults with life shortening and life threatening conditions.
As a disabled woman herself, Maria knows only too well how treats can become bottom of a priority list. Sadly, her cousin Delia lost her battle with cancer in 2005 before they could achieve their dreams together and as such, Maria carries out their dreams in her heart. Now 5 years on, me&dee is creating over 100 special moments a year and in addition is supporting oncology wards in hospitals and in hospices with nominations (over 200 nominations are covered in a year, 20+ a month at least!) and their 'comfort pack scheme.'
What is the comfort pack scheme?
Charity founder Maria produces comfort packs to be given to parents of children rushed into hospital, which include thoughtful items like toothbrushes, coffee sachets, tissues and other items they may not have had time to gather together.
Western Power Distribution sponsored the comfort packs and Essential Print Services  philanthropically provided the printing on the bags. We've also printed free sponsorship envelopes, flyers, event tickets and leaflets for me&dee and donated a day of artwork time so that the charity could have professional-looking forms and literature.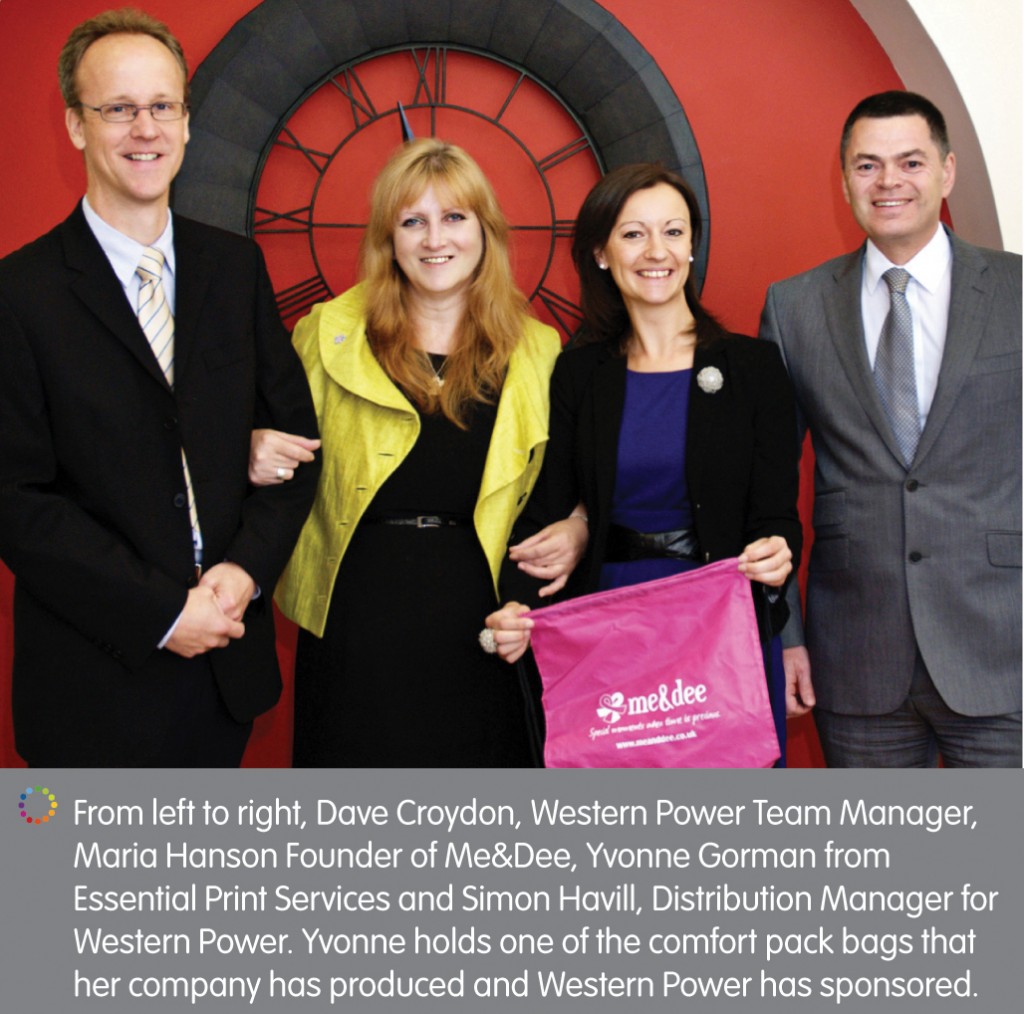 How can I get involved?
me&dee can create a special moment for £100, so if you and 9 other people are able to donate just £10 – one child can have a special moment that will live on in the hearts and memories of so many people, forever.
Maria works so hard in order to make her dream a reality and she is such an inspirational lady. Working alongside Maria is always a pleasure and it's a charity that we absolutely love to support.
You can read more about the top rated charityme&dee and discover number of ways you can support this wonderful charity at their website – www.meanddee.co.uk
Coming up: I will be spotlighting B.O.D.Y, Rainbows Children's Hospice and many more.
As always, I'd welcome any feedback or a quick 'hello' so email me at laura@essentialprintservices.co.uk
Thanks for reading.