Happy Wicked Wednesday! Mwah ha ha!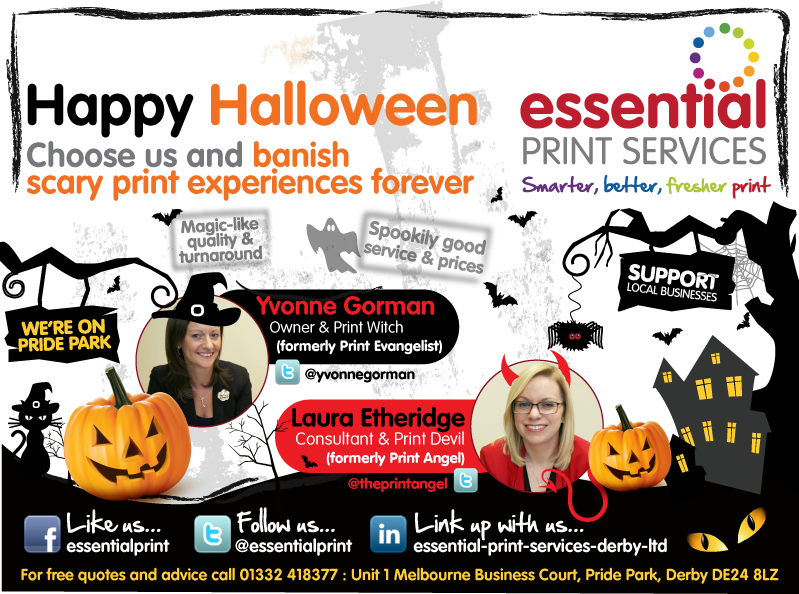 With the dark nights upon us, let us help you lighten your spirits with this ghouly joke;what is a vampire's favourite dance? The Fang-Dango.
Halloween may not be over yet but we can't resist to take this opportunity to mention the "C" word. Its just over 7 weeks until Christmas and for the more organised amongst us, you will probably want to have all your christmas cards, corporate calendars, wall planners and other gifts, sent out for the start of December. But even the most creative Marketing people can find it difficult to think of fresh ideas for their Christmas promotions. Don't fear, the Essential Team is here.
After a brief chat about your business, your customers and what you want to achieve, we will come up with the ideas for you, provide proofs and give you prices.
You don't have to order hundreds of items to make it worthwhile – some corporate gifts are available in runs of 25, perfect for smaller businesses. Some items do take time to produce so it's best not to leave it to the last minute. Aim to have everything produced and ready to send out by the end of November.
Here's another; what do you call a witch in the desert? A sandwitch.
OK, so print is no joke, but it shouldn't be a scary experience either. At Essential Print Services, we aim to be as affordable as onilne companies, as flexible as a local provider, with thrilling service that exceeds expectations.
So get your Christmas wish list together and call 01332 418377.
Mini Roll Up Banners
Available in A4 or A3 size, these small, but perfectly formed mini rollup banners are ideal for reception signs, advertising and for when exhibition space is limited.
For just £35+VAT for A4 size or £45+VAT for A3, these are a great solution for a very affordable, professional looking display. To order yours, call us today on 01332 418377.
Are you ready for your corporate Christmas promotions?
The countdown is on to bring all your marketing ideas to life.'The early bird catches the worm'. Don't be afraid to be the first to send out your cards and gifts. It can make you more memorable and show your clients and prospects how organised you are.
Your cards, gifts and calendars will gain maximum exposure too. If you're ready to talk about the "C" word, then don't delay, call 01332 418377.
As always, I'd welcome any feedback or a quick 'hello' so email me at laura@essentialprintservices.co.uk
Thanks for reading.