Rebekah Lord completes her year long 'apprinticeship' and is promoted to 'The Printcess'.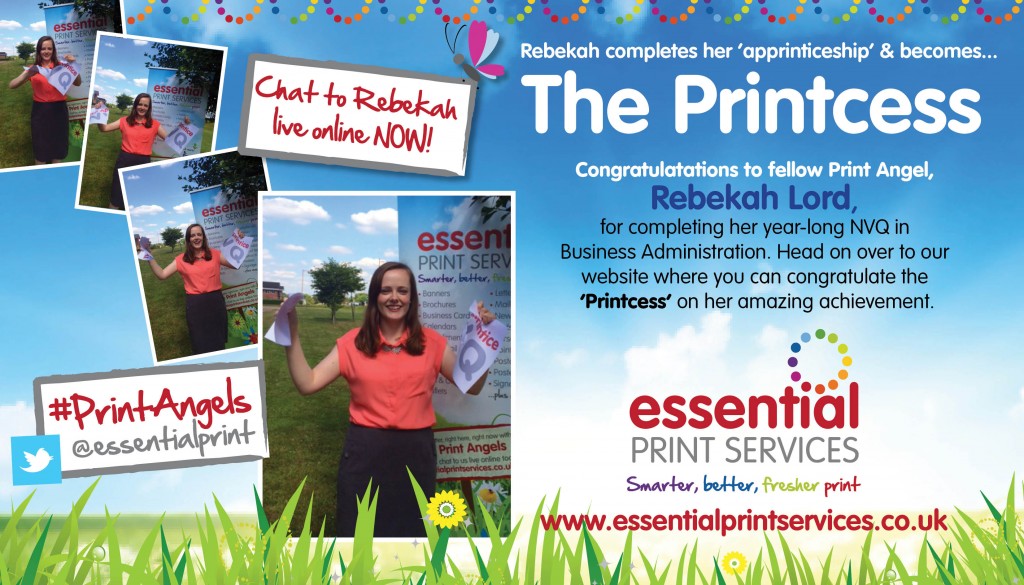 Rebekah said:
"I'm really happy that I got the chance to be The 'Apprintice' at Essential Print Services, it has been a great year and it has opened my eyes into the business world, which has been a great experience. I couldn't have asked for a better company to guide my way through the course!" said Rebekah, our brand new Printcess (Twitter @TheEPSPrintcess).
Laura said:
"Rebekah's NVQ in Business Administration was well tailored to her role at Essential Print Services and has given Rebekah the knowledge to underpin her passion for providing the best administration and service possible to our clients. It's great to see that Rebekah has now progressed from being The "Apprintice" to "Printcess". Well done!" added Print Angel, Laura Etheridge (Twitter @ThePrintAngel)
Yvonne said:
"I feel very proud that Rebekah has been Essential Print Services' very first apprentice and I can't believe the transformation. I look forward to Rebekah being a part of my company for many more years to come and to see how her career progresses. Rebekah is now a fully fledged Print Angel and with the help from her colleagues, she can advise on the best print options for our clients. I'd like to thank Babington Business College for their support throughout the past year and I'd recommend any small business owner to take on an apprentice." commented Yvonne, Essential Print Services' business owner (Twitter @YvonneGorman).
If you'd like to send your congratulations to Rebekah or would like to put her print skills to the test, feel free to drop her a line to admin@essentialprintservices.co.uk