There's no time like the Present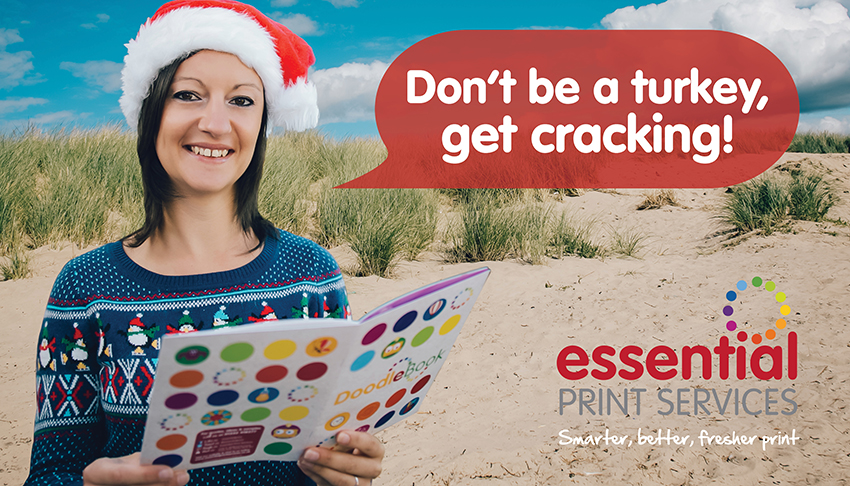 Christmas seems to come around earlier and earlier with each passing year and images of Chestnuts roasting on an open fire, are far from the forefronts of minds when it still feels like summer outside.
"In actual fact, now is the perfect time to be thinking about your printing requirements not only over the festive period but also well into 2016" says Yvonne Gorman, Print Evangelist and owner of Essential Print Services, Derby.
Being prepared for Christmas printing early is no bad thing, as it leaves time in the schedule that can be used on other areas of a business that demand attention. Not only this, but it's a good demonstration to existing customers and prospects alike of a businesses amazing organisational skills!
The earlier you start to spread the festive cheer, the more memorable a Christmas Card campaign or promotion is likely to be. So don't be afraid to break the mould and set the precedence by being the first to get your seasonal salutations out there.
Being organised also pays dividends when it comes to reducing the stress levels, after all, the festivities are a time for peace on earth and goodwill to all men, which isn't always achievable if campaign deadlines are looming and the pressure is on.
So, how do you go about creating a successful Christmas campaign or promotion when the sun has still got its hat on?
If you're struggling to channel your inner festive fairy, work with your creative team sooner rather than later to create a yuletide masterpiece worthy of good King Wenceslas himself.
The team at Essential Print Services Derby, lead by Print Evangelist Yvonne Gorman, have a genuine passion for all things print as well as all things festive. They would love to discuss your print requirements, large or small, for the holiday period and beyond.
For more information on how the "Print Angels" can help you to get your Christmas party started, why not contact them today on 01332 418 377? You can also chat to them online (in office hours), just see the chat bar below.