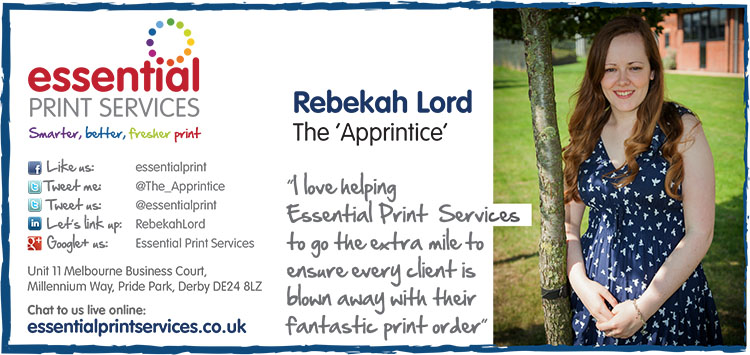 I started at Essential Print Services in June 2013 and so I thought I'd take some time to let you know what I've been doing and also a little something about me.
After finishing my three years at college last May, I wasn't sure what I wanted to do. I knew university wasn't the right choice for me. I love learning, but I really dislike studying and so I began to look for a job and a year later, after spending my days watching Home & Away, Neighbours and re-runs of Criminal Minds, I found myself at a job fair, where I was introduced to Babington Business College.
A few weeks later I had a phone call from Kam Penglin telling me about an apprenticeship or should I say 'Apprinticeship' with Essential Print Services. So straightaway I Googled the company and found out what printing services they offered. I knew right away I really wanted the job.
I got offered an interview, which went really well and a week after that, Yvonne rang me and asked me to do a trial day, which I loved. On July 22nd I had my very first official day working at Essential Print Services.
Other people should consider apprenticeships, because they are a great way to get into an industry, learn at the same time and get paid for it. What could be better than that?
When I was at college and considering what to do next, I never in a million years thought I'd be doing an apprenticeship. I thought I was too old. But as it turns out, it was the best decision I ever made.
If you're not sure of what to do and you don't think University is the right choice, seriously consider an apprenticeship or in my case an 'Apprinticeship'.
Since starting at Essential Print Services, my friends and family have noticed that I've been looking at menus in restaurants and flyers that come through the door. I find myself critiquing them on the fold, quality of print and the paper they're printed on.
I may not know a lot about print yet, but after looking at the countless orders we have, I'm starting to get to know what's right and what's wrong and more importantly why.
I also find myself talking about my job quite a lot and how much I love it. Everyone I know has mentioned how much more confident I am now and that I've 'come out of my shell' – I mean it only took me twenty years!
I've always been a perfectionist and an organiser, but I am even more so now because of the way we present the orders to clients. We only get one chance to make a first impression and we want to make one that counts and also one that lasts.
My favourite product is a brochure, because there are so many options such as the type of laminate, the weight of the paper, the types of paper and the binding you can have.
There's also the choice of different weights of paper on the cover to the pages inside. Whether you use spot UV (which I think looks so good) and finally, the size of the product itself.
It's really interesting to see the way different clients go about designing their brochure or the way they give their ideas to Yvonne. Yvonne and the team make sure our clients love the final finished product.
The best thing about my job is that I'm constantly learning. I've already learned so much and I know I have lots more to learn.
I have lots of goals in life. The biggest at the moment is to succeed and get the most I can out of this position. To learn the best way to do things and do the very best that I can.
But, I would love to get to the point where I'm confident enough to take an enquiry and see the order through to completion. I know at this very moment in time I'm a long way from being able to do that, but I can't wait for that day.
Get to know me:
Do you have a nickname? Yes a few, RL, Lordy and of course 'The Apprintice'.
Last song you bought? It wasn't actually a song it was an album and it was Hail To The King by Avenged Sevenfold, it is awesome and was totally worth the three-year wait.
Any Special Talents? I can touch my nose and chin with my tongue but unfortunately not at the same time 🙁
Who's your hero? That's a tough one but I would say either Anna Wintour (editor of Vogue) or Agatha Christie.
One band you would love to see live before you die? Bon Jovi or Fall Out Boy or Slipknot (again).
What are your hobbies or interests? Reading, running, photography. I really love developing film too. I guess it's a hidden talent of mine. I also love going to gigs – I've probably been to about 100 in about 7 years (and that's excluding Download) What can I say? I just love music!
What's your favourite food? This is a hard one for me as I'm not a big fan of eating, but if I had to choose one thing in the entire world it would probably be lobster salad or carrot and coriander soup.
What are your biggest fears? Fish, Frogs and Ladybugs. People always laugh when I tell them this, but I do have a genuine reason to be scared of fish, well at least I think it is, the other two are definitely irrational.
If you could have dinner with 7 people dead or alive who would it be? Joan Rivers, Audrey Hepburn, Corey Taylor, William Shakespeare, Charles Dickens, Kathy Reichs and Jacoby Shaddix.
The one place you want to visit most in the world? Now I know most people would say Australia or New Zealand, but for me it's not. I'm terrible with the sun, so for me I would have to say I really want to visit Bran's castle (also known as Dracula's Castle) in Transylvania. There's a reason my family always joke that the Addams family dropped me off.
Any Pearls of wisdom? I have two, 'always, always, cleanse, tone, moisturise' – Justine Lord (my mum) and 'If your head tells you one thing and your heart tells you another, before you do anything, you should first decide whether you have a better head or a better heart.' – William Shakespeare.