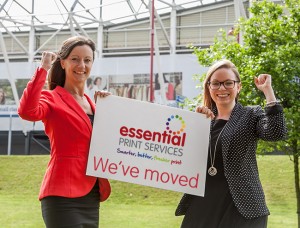 Essential Print Services is celebrating two years of hard work and helping clients get their message across in print – whether that's brochures, banners, posters, flyers, postcards, calendars, business cards or a host of other high quality products.
To mark this milestone – and pave the way to helping even more clients in the future – Essential Print Services is moving to new premises AND signing-up a new team member.
The company is staying on Pride Park, in Derby, but transferring from Unit 1 to Unit 11, Melbourne Court. It'll now be just across the road from Derby County's football stadium.
Owner, and print evangelist, Yvonne Gorman said: "Our team is growing because even in challenging economic times, reliability and high standards of service are still in big demand. Today it's vital that businesses make the most out of every piece of marketing material they produce, so that they can stand out from the crowd. That's where we come in.
"Printing has always been my passion – my dad was in the print business for 37 years. After launching Essential Print Services in 2011, I quickly proved that there was a need for expert advice, great customer service and quality printing at a competitive price. I made my first signing in July 2012 when I took on 'Print Angel' Laura Etheridge to keep pace with the demand for enquiries and quotes and to manage projects on behalf of our growing client base."
Yvonne added: "I believe we have succeeded because we go the extra mile to supply smarter, better, fresher print. I get a real kick out of helping business start-ups spend their budget wisely and market themselves effectively.
"It's also been great to win the chance to help well-established local businesses revitalise their printed materials and reach their goals."
Yvonne has shown over the last 24 months that there really is no substitute for passion, hard work, great products and a will to succeed.
Yvonne adds "Why stay on Pride Park? I'm really excited about Derby's future. Pride Park especially is acquiring new companies all the time, which in turn is creating more employment within the city. With the news of the 'Plaza at Pride Park' and the Velodrome development, my employees and I wanted to be where it's 'all happening' and be able to utilise these facilities that will be right on our doorstep".
Why not get in touch with Essential Print Services for some ideas on how you could give your printed materials a fresh, new look? Simply call 01332 418377 or email info@essentialprinting.co.uk