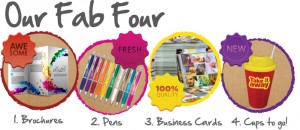 It would seem that good things come in four's at the moment as we share with you our four favourite printed items, as voted for by your Print Angels:
1. 'Tri' Folded Brochures – Rather than choosing a regular DL (1/3 A4) size folded leaflet, 'tri' something new and switch to an A5 or even A4 folded brochure.  The A5 trifold brochures are available in landscape too so when fully opened, it'll provide you with a great space to place panoramic photographs or an overview of your products. Our A4 folded brochures are more cost effective than stapled brochures and quantities can start as low as 100!
2. Pen Perfection – We're certain that these writing devices are 'write' up your street because they're our best sellers. Further more, this curvy & sturdy style pen looks great when printed with a silver logo or text. For a more executive-looking pen, a 'midnight black' is also available at no extra cost.
3. Business Card Bonanza – They're back and mean business! Our business cards are as popular as ever. Now with extra finishes to choose from such as soft-touch laminate (oohhhh it feels furry), our standard matt laminate (silky smooth) and coloured-core (funky fresh). Shine like a star with our Spot UV range, which can now be applied to both sides. Want to look super-fly? Then our super thick cards are just the ticket. For samples and advice, call the Print Angels on 01332 418377.
4. CupTastic – Get in the hands of your clients with our brand new range of takeaway cups. Avoid nasty accidents and sticky keyboards, with these light weight, durable and reusable receptacles. Have the best of both worlds; they are double-walled so your drink can stay hot or cold whilst remaining comfortable to hold.
We're full of bright ideas so if you'd like find out how our fab four can work for you, or if you'd like a price on another printed product, call the Print Angels; Lindsey, Katie or Yvonne on 01332 418377.