Essential Print Services are pleased to announce the launch of our V.I.P. Collection (Very Important Print). This is our latest offering of specialist printing; we can now offer foil blocking, embossing, debossing and duplexing.
Foil Blocking is the application of a metallic foil onto board or papers. The most popular foils are gold or silver, but they can also be a variety of colours and even be matched to Pantone Colours. Foil can be applied as text or graphics.
Embossing, also known as blind embossing, is where paper or board is raised from the surface and debossing leaves an indent in the material. Foil Blocking can be applied at the same time too creating a fantastic, high end result.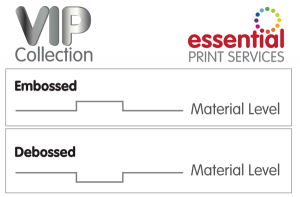 Duplexing is where two boards are adhered together to create a super thick business card or brochure cover. Clients will often choose two contrasting coloured boards to create a beautiful finished product.
So if only the best is good enough, if your company needs to really stand out from the crowd, or perhaps you need some extra special invitations, call 01332 418377 and take advantage of our VIP Collection. Let us take your print work to the next level and together we can make a great impression.