RAMATHON PRINT SPONSOR TAKES ON TEAM CHALLENGE FOR CHARITY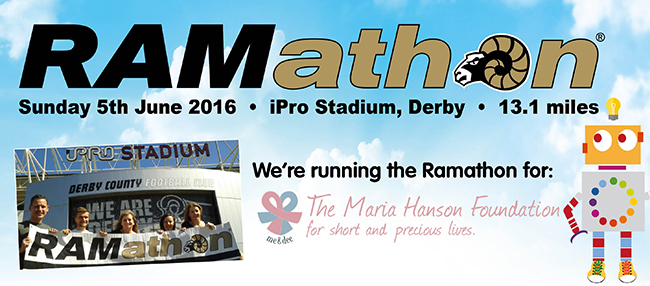 Ramathon's print sponsor, Essential Print Services based in Pride Park in Derby, will be taking a morning off from running the business in order to run the Ramathon – Derby Half Marathon on Sunday 5th June – to raise money for charity.
With a team of four entered into the Team Run, the runners will be gaining the support of their friends, families and colleagues over the next 6 weeks to fundraise for the Maria Hanson Foundation, a charity based in Derby, formed to create special memories for children and adults when time is precious. The charity is self-funding, with a tiny team that is totally reliant on donations and fundraising activities.
Through the provision of holidays by the seaside in Mablethorpe, the Maria Hanson Foundation (me&dee charity) offers families who may have a loved one living with a life limiting condition and an uncertain future – the chance to spend time together. With a private beach hut, grocery vouchers and individual support for life limiting conditions, the focus is on ensuring that the time spent together is enjoyed and made memorable.
You can show your support and help the team by donating, whatever you can, to the team's JustGiving Page.
Yvonne Gorman, owner of Essential Print Services and Print Evangelist is a Trustee of the Maria Hanson Foundation as well as a keen runner, and will be training extra hard over the next 6 weeks to maximise the fundraising potential for the charity.
Yvonne said, "I have been a supporter of the Maria Hanson Foundation for many years. Maria and the team work tirelessly to help and support hundreds of individuals and their families and friends each year and I am proud to be part of a committed team that will train hard to raise as much as possible for this important cause".
Other members of the team include Laura Faulkner, Owner of Matchstick Design, Jim Leafe, Digital Marketing Manager at E.ON Energy, and Simon Smith, Owner of JAKT Photography. Having met Maria through an independent business support network – Hallmark Business Group – the team decided to get their heads together, put on their running shoes, and make a difference.
Maria Hanson MBE, the founder of the charity, said, "We are thrilled that Yvonne and the team have chosen to support the Maria Hanson Foundation. Having set up the charity ten years ago and since helped more than 2,000 families, it is clear that there is a real need for families and friends to get the chance to make special memories when time is limited. The money raised will have a significant impact on people who need this opportunity now and we are very grateful for their support".
Ramathon has a charitable focus and in 2015, runners raised upwards of £75,000 – treble the amount raised in the previous year. For this year's event, an ambitious fundraising target of over £100,000 has been set by the Ramathon team.
For more information about the Maria Hanson Foundation, visit www.mariahansonfoundation.org.uk.