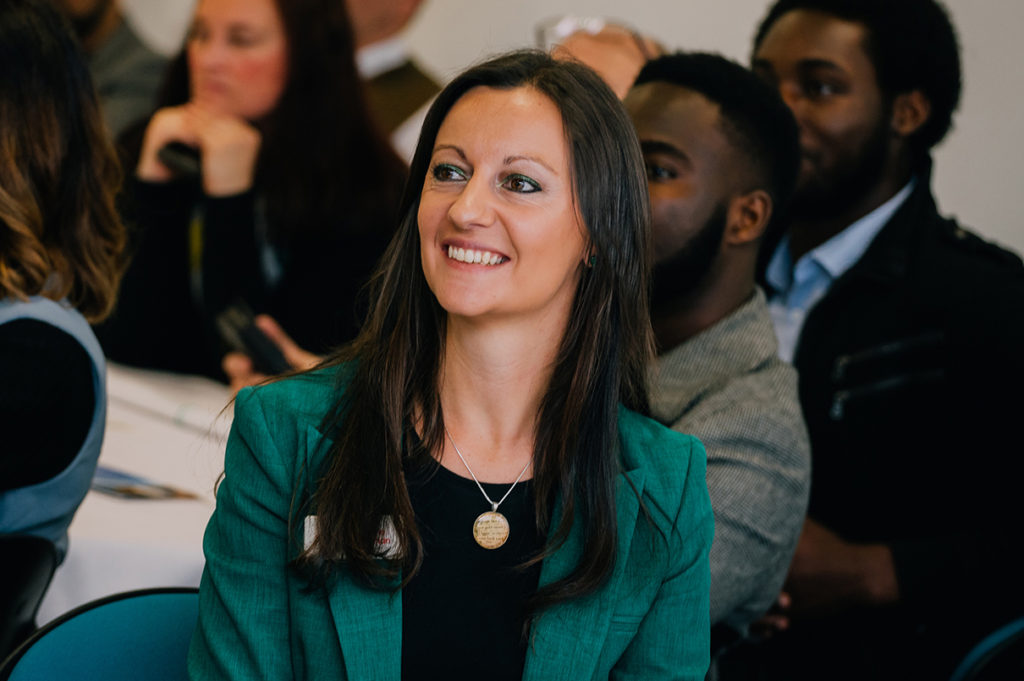 A Print Evangelist is someone who is enthusiastic about the print industry, a print perfectionist and someone who sees creative potential in all print projects.
It takes many years of experience to gain enough knowledge to become a Print Evangelist, but with 20 years under her belt, owner of Essential Print Services, Yvonne Gorman, can safely call herself just that; "what I love most is knowing that the items I have printed are working really hard for my customers and that they are making a positive impact. To achieve this I discuss my clients' requirements and help them plan what they really need. I find out who their print is aimed at and how to get it to the right people. I can help work out postage costs and the all-important follow-up to any mailshots.  I can suggest some ideas you might never have considered."
PRINT:
Yvonne is a fully-fledged entrepreneur of a Pride Park-based business, Essential Print Services. She produces creative and effective print work at affordable prices, with quality service. She works with some of the most high profile SME's and start-up companies within the local area, helping them make the most out of their marketing budget.
SALES:
Over the past 20 years, Yvonne has worked for a variety of design agencies and print houses. She always had a hands-on approach for print work but also had an influence on the sales strategy for each of these employers. Using a multitude of sales methods, Yvonne always looked for ways to improve her skills with various seminars and workshops. She found that her mixture of common sense, genuine interest and unconventional ways of selling tends to work the best. And now, with her business venture; Essential Print Services, she can put all those years of experience into practice.
NETWORKING:
Yvonne loves meeting new people and networking. She strives to obtain that buzz she gets when she has introduced people, who then go on to reciprocate lots of business with each other. Yvonne is involved in a number of networking events and groups, so if you are new to networking, she would be very happy to invite you along as her guest and show you the ropes.
COMMUNITY:
Yvonne is one of only seven Small Business Saturday UK Heroes flying the flag for small businesses. Small Business Saturday UK is a nationwide, government-backed initiative to support and promote small businesses. Their efforts culminate on the first Saturday of December every year.
In May 2018, Yvonne joined the Marketing Derby Board of Directors. Marketing Derby is the Inward Investment Agency for the City of Derby.
In January 2019, Yvonne created the East Midland's very first Happy Cafe, Derby and continues to volunteer her services to the team. Happy Cafe is run in conjunction with the worldwide charity Action For Happiness.
Yvonne and the business is an avid supporter of the Me&Dee Charity, which makes memories for families who do not have long together.
PHILANTHROPY:
A creative, pro-active and organised individual, Yvonne has vast experience of sales, graphic design packages and networking.
Yvonne has excellent communication skills working with all levels of management, whilst maintaining a professional demeanour, Yvonne always has an enthusiastic, positive attitude to everything she does.
Her attention to detail remains consistent when working under pressure and strives when working to tight deadlines. She produces work to the highest standard and has a professional, 'can-do' approach and is an enthusiastic attitude towards all aspects of marketing, account handling and new business opportunities.
GET TO KNOW YOUR PRINT EVANGELIST
What's the first thing you notice about people?
Their handshake.
What was the last song you danced to?
Kylie Minogue, 'Can't get you out of my head'
Who's your hero?
My Dad.
What's your favourite food?
Macaroni cheese with Sriracha sauce.
Where is the furthest you have been from home?
On honeymoon to Las Vegas.
One band you would love to see live before you die?
Eagles, just to hear them play Hotel California.
What are your hobbies or interests?
Other than graphic design and printing; I enjoy reading books about business and personal development, keeping fit and organising events (i.e. parties).
What are your biggest fears?
Heights, which I discovered during my first visit to Go Ape!  I am also fearful of swimming out of my depth.
Any pearls of wisdom?
"If opportunity doesn't knock, build a door."