Essential Print Services of Derby celebrates its first anniversary this month and what a successful year it has been!
Owner and print expert Yvonne Gorman is the driving force behind the company, which has revitalised the printed material of many Derbyshire-based businesses over the past 12 months.
In her first 12 months of trading, Yvonne has outstripped all of her business targets, upgraded to bigger premises and acquired a catalogue of satisfied customers across the county. A smart business-woman, Miss Gorman combines years of experience and a thorough knowledge of printing, design and the commercial sphere with a feminine touch and exceptional customer service.
Essential Print Services, which supplies a wide range of products; provides intuitive advice and a flexible service: "Whether you need a reprint of brochures, a top-up of business cards, or perhaps you need to print something to promote your company, but don't know where to start – I'm here to help."
Miss Gorman, who is a key figure in the networking forum, Derby Hub, as well as the Women in Business Network and the Hallmark Group, is extremely supportive of local businesses. Networking with Derbyshire-based businesses has been a key element in the company's growth.
Yvonne is enthusiastic about establishing links between local companies and charities: "I love meeting new people and networking. I love the buzz I get when I've introduced people who then go on to reciprocate lots of business with each other."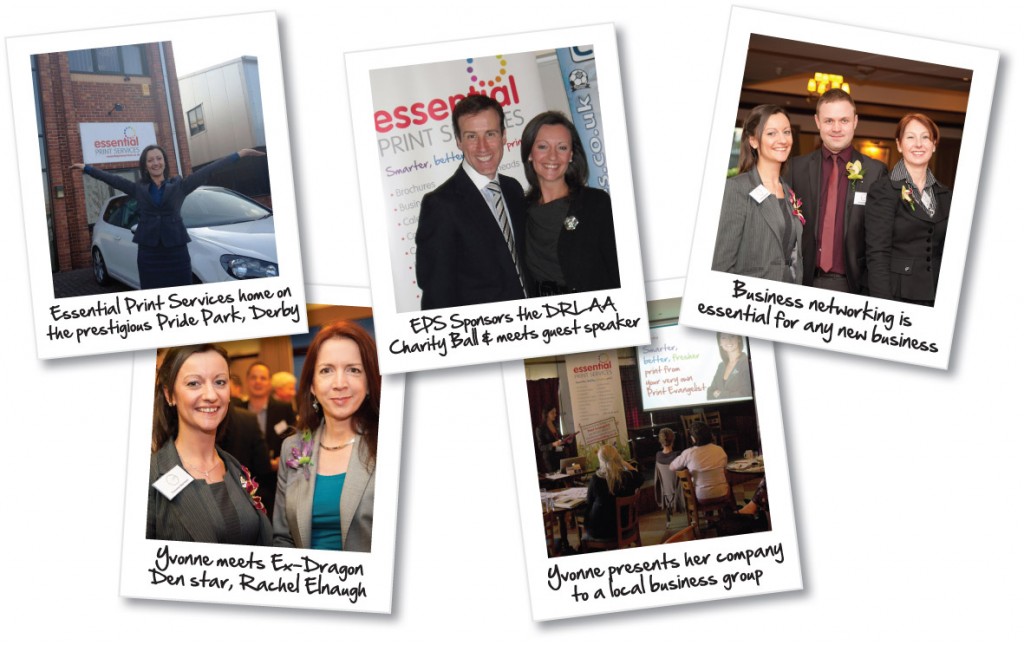 Essential Print Services' ethos is to supply 'Smarter, better, fresher print' and it provides practical advice and a professional service to businesses both great and small, from big well-established companies to small start-ups.
Yvonne is the friendly face of printing. She says it is her personal touch that makes her stand out from the crowd: "I can make a big difference to your material because I give advice and check that your artwork is the best it can be. I am the human intervention in the print process."
'Enthusiasm' is Miss Gorman's middle name. A self-proclaimed print evangelist; printing isn't just her day job – it is a passion. Printing comes naturally to Yvonne, whose father was in the business for 37 years.
Miss Gorman and Essential Print Services are an admirable example of how to succeed during the financial crisis. Reliability and high standards will always be in demand, especially when it is paramount for companies to make the most of every piece of marketing material they produce.
Yvonne is an entrepreneur, launching Essential Print Services at the young age of 29. Her practical experience ensures she is working from a base of sound knowledge. Before setting up her own business, Miss Gorman built up 13 years of professional printing, design and commercial knowledge across the industry.
This includes positions such as the Director of a Loughborough Promotional Items company; the Business Development Manager at a Derby-based print manufacturing company; the Senior Designer at a Nottingham Design Agency and a PR Assistant & Graphic Designer at a PR Agency.
It is Yvonne's wide variety of skills, which ensures that Essential Print Services provides top quality products at competitive prices: "As I have hands on experience, I have a vast amount of technical knowledge and a deep understanding of the product, which results in superior print," says Yvonne.
"fantastic, committed, hardworking"
"What can I say about Essential Print Services? Just read all of their online testimonials – it's all true! Fantastic, committed, hard working and they'll never let you down! Until you have worked with Yvonne at EPS, you don't know what superlative customer service looks like!." Barry Ashmore, StreetwiseSubbie.com

If you need impartial print advice or a no-obligation quotation, call 01332 418377 or email info@essentialprinting.co.uk