Happy Valentine's Day
If you've reached this page, you must have been a lucky recipient of an Essential Print Services' Valentine's card, which was sent with love from the Print Angels; Von, Laura & Kat – we hope it was a nice surprise!
We believe a little thank you goes a long way and so we thought we'd send a big one through the post!
OK, but in all seriousness, we really do appreciate your orders and continued custom.
As you may already know, we are so much more than just a print company. With your help and support, we can continue to grow our business and therefore, create jobs, help charities and assist those brave souls who want to start their own companies.
As a token of our appreciation, we'd like to offer you a sneaky peek at some special prices for just a few our best selling items. They are a vital part of our marketing mix – they work really well for us and they could work well for you too.
They may be small, but they are beautiful and they can make a big impact for your business.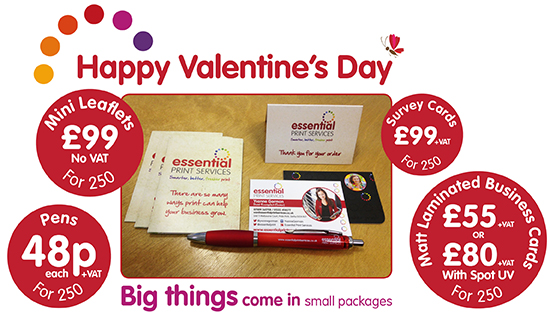 Why not create a match made in heaven? If you'd like to try more than one of these items at the same time, let us know and we will calculate a further discount for you.
Buying print shouldn't feel like a blind date, so if you're struggling to find the right words to say, or wonder what your new print might look like, fear not, we're here to help! There's nothing that we enjoy more than talking to people about their requirements, ideas and how we can help make it all happen!
So why not try something a little different this month? Talk to the Print Angels on 01332 418377 or email printangels@essentialprintservices.co.uk